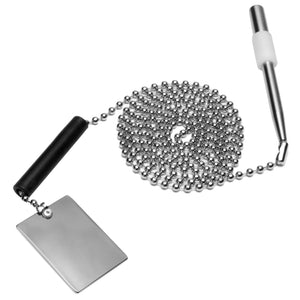 This state-of-the-art electro conductor allows the user to turn their body into the ultimate sensation tool! Just place the flat steel conduction pad against your body, then plug the end of the adapter into your Zeus Twilight Wand (sold separately). Now you are ready to give your partner a sensory experience like no other! The sizzling electro stimulation flows from the wand, through you, and into your partner, turning your body into their own e-Stim toy! You can give them a light, tingling massage or a sensual sting. This pad is one of our lighter intensity conduction pads. Use your imagination, the possibilities are endless!

Measurements: Pad measures 2 inches in width, 2.5 inches in length, chain measures 60 inches in length

Material: Metal, rubber

Color: Silver

Note: Requires Zeus Twilight Wand, sold separately.