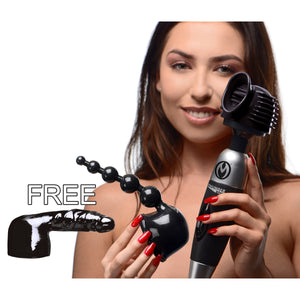 Indulge in a euphoric and erotic massage, inside and out! This set has all the necessary components for internal and external buzzing bliss, including a powerful and sophisticated wand vibrator and 3 diverse attachments. The Thunderstick 2.0 has the same impressive functionality as the original, now with a silicone head and a sleek, modern makeover! The smooth, variable speed dial controls intensities that range from a delicate, low hum to a knee-shaking thrum. The flexible neck allows you to find the right angle without straining your wrist. How much ecstasy can you withstand? The Thunder-Gasm wand topper features dozens of protruding bumps on one side, a rippled design on the other, and a front cup that surrounds your erogenous zones and teases them with a flickering tongue that simulates oral sex. Interested in the intense thrill of graduated anal beads? Just place the Thunder Beads attachment over the head of the wand and it will transmit the intense vibration into each of the five smooth, seamless beads. Looking for a fulfilling phallic experience? Enjoy the realistic shape and texture of the Thunder Shaft accessory gives you an internal massage, sending the powerful thrumming of the vibe straight into your body. Whether you are playing solo or with a partner, this kit is the perfect way to enhance your sexual explorations!

Measurements: Thunderstick 2.0 measures 13 inches in total length. Head is 2.4 inches in diameter. Cord measures 65 inches in length. Thunder-Gasm is 2 inches in diameter, 2 inches in depth. Thunder Beads are 8 inches in total length, 5 inches insertable, beads measure between 0.5 and 1.15 inches in diameter. Thunder Shaft is 6.5 inches in total length. Dildo is 4 inches insertable, 1.25 inches in diameter.

Material: Thunderstick 2.0 is made of silicone and ABS plastic. Thunder-Gasm is made of silicone. Thunder Beads and Thunder Shaft are made of TPE.

Color: Black.

Note: Includes Thunderstick 2.0, Thunder-Gasm 3-in-1 Wand Attachment, Thunder Beads Anal Wand Attachment, and Thunder Shaft Penis Wand Attachment.