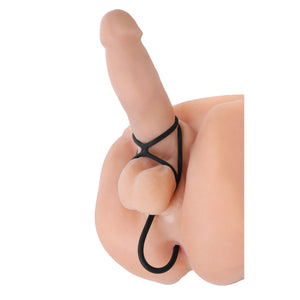 Pleasure is yours with this devious silicone tri cock ring and anal plug from the Master Series. Made of premium silicone so it is long lasting, non-porous, and body safe, this flexible piece is ideal for anyone interested in dual stimulation and erection enhancement. By simply arranging the testicles and shaft of your plaything within the confines of the darkly sexy triple cock rings, then inserting the tapered anal plug, your plaything will enjoy the full feeling while his member is standing at attention.

Measurements: Anal plug: 2.85 inches in length, 1.8 inches in diameter at widest point; Rings: 1.85, 1.25, and 1.15 inches in diameter

Material: Silicone

Color: Black

Note: For best results, first place the largest cock ring behind the testicles and shaft, then the middle ring at the base of the shaft, and last the top ring around the scrotum.