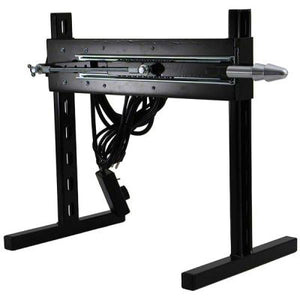 After the intensive design of the Probe machine, the basic unit turned out to be so effective that I had to build a powered-up version! The Probe Plus delivers in spades, with lots of power and speed, great setup flexibility, all in a compact and lightweight machine.

This little machine uses the same power components as the Attache and Marauder, and is a carefully designed piece of equipment built to last. It delivers blazing speed when you want it, and the power to comfortably handle big dildos. With nice stroke adjustability, infinite control over the speed, long cords, and a very flexible body, the Probe Plus is an outstanding value.

The Probe Plus features a tough steel body, powder coated gloss black for beauty and durability. Two T-shaped legs adjust independently to support the thrust arm from 3 inches to 17 inches off the floor, and at a wide range of angles. The Probe Plus breaks down in seconds into three pieces for compact storage or transportation.

Measurements and Power:
Size-

20 inches x 17 inches x 12 inches (assembled)
20 inches x 4 inches x 12 inches (folded)

Stroke Lengths- 1 inch to 5 inch, five positions.
Stroke Speeds- 0 to 250 strokes per minute.
Horsepower and Torque- One-Twelfth HP, 20 in-lbs.
Standard Features:
Welded steel with gloss black powder coat finish.
Adjustable legs.
Standard dildo system, platform arm with straps.
10 foot power cord and 10 foot hand control.
12 inch extension included.
Dildo System Options
Your Probe Plus Fucking Machine comes with the standard attachment system (shown to the right). The Standard Dildo System consists of a welded steel platform arm and retaining strap. This strap is sewn from Velcro and webbing. This dildo system works well with most dildos that have a wide or flared base, particularly ones with balls.
Also available,
and sold separately
, is the Vac-U-Lock Dildo System (link below). This machined aluminum plug matches the shape used with Vac-U-Lock dildos. This system does require Vac-U-Lock dildos.
Note: Dildos are not included.
Which Dildo System is right for you?
This depends primarily on the type of dildos you own (or plan to purchase). If you do not own dildos presently, we highly recommend the Vac-U-Lock system. It is easier to use and extremely secure. Obviously, the most flexible solution is to own both dildo systems.
Note:
This machine is made for 110V.
Extra Available Options:
Dildo Doubler.
Vac-U-Lock Fucking Machine Adapter.
Please allow up to 4 weeks to process orders for this item. Feel free to contact us to confirm immediate availability.