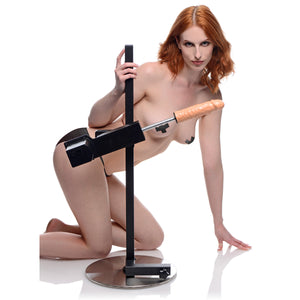 Create your ultimate BDSM and sex station with this versatile sex machine! The Dicktator provides pounding, penetrating pleasure at the control of your fingertips. Get creative with your bondage set-up and simply add the Dicktator in with its customizable stand. Assemble in less than 5 minutes and enjoy incredible machine-powered sex on your own or with a partner!

Adjust the angle of the machine up to 300 degrees to fit perfectly in unlimited positions. The machine moves up and down the length of the stand for your ideal height. You can even adjust the thrust length from half an inch to 3 inches!

Use the multi-speed dial, with its 6-foot-long cord, to play with various thrusting speeds, from slow and sensual at 1 stroke per second, to rapid and ravishing at 3 strokes per second. The large, round, heavy-duty base has rubber supports to keep the noise down and increase stability at all thrusting speeds.

This machine was designed to mount to the Obedience Sex Bench for non-stop screwing while your partner is comfortably restrained, but it is also a convenient machine for use without. The mounting arm adjusts in length and height to accommodate other sex furniture, including cages, swings, and more.

The thick, veiny dildo is compatible with silicone and water-based lubricants and easy screws onto the thrusting arm. A vacuum-lock adapter enables you to switch it out for a wide variety of compatible anal or vaginal dildos.

The durable steel frame of this fucking machine will stand up to vigorous use through many play sessions. It is light, compact, and easily maneuvered. You dictate the pounding your partner receives!

Machine AC power accepts 110v or 220v. DC power accepts 15v. See related Universal Adapter AC771, which allows for use in but not limited to: Australia, EU, UK, and Japan.

Measurements: Stand is 34.25 inches in height, with a 13.75 inch diameter base. Connector bracket is 21.5 inches in length. Thrust length adjusts from .5 inch to 3 inches. Dildo is 7 inches in length, 2 inches in diameter.

Material: Machine is made of steel and ABS plastic. Dildo is made of TPE.

Color: Black.

Note: US 110-220v power cord included. Includes an allen wrench and machine lubricant. Obedience Sex Bench AF514 sold separately.