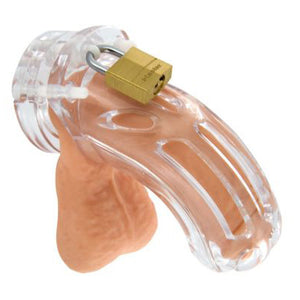 The Curve consists of two main parts, the cage portion and cuff ring. They easily slide together by way of two guide pins and a locking pin. The guide pins extend from the cage portion. Once you find the right amount of spacing, simply use a pair of side cutter pliers to snip the ends of the guide pins and then smooth the edges with an emery board. The locking pin is slightly recessed into the body cuff. There are various sized spacers that can be used for an individual custom fit. Also, for additional comfort, we suggest using baby oil or a similar product after showering, apply to the penis with a cotton swab.

'THE BODY CUFF' swivels open at the bottom. This allows the man to put it behind the ball sack and then easily close it to align the locking pin holes. After installing the locking pin, add the proper amount of spacers and then install the cage portion. The balls will then be trapped between the cuff and the cage. The round design eliminates any pinching or chaffing while being worn. It comes in five different sizes. Finding the right sized cuff is extremely important for not only comfort; but, for security reasons as well. It should be as tight as possible while not cutting off any circulation. If you are wearing a cuff that is to tight, it will cause some swelling and discoloration of the ball sac. You will need to go to the next larger size if this occurs.

The Complete Curve Chastity Kit comes with:
5 - Hinged Cock Rings
5 - Numbered Plastic Locks
1- Brass Lock
3 - Sizing Spacers and 3 Sizing Pins
Important Note:
Per the manufactures selling agreement this item must sell no lower than their MAP of 149.00.