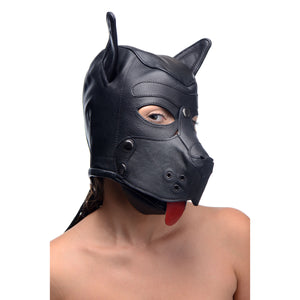 Elevate your puppy play sessions with a beautifully-crafted leather puppy hood! If your pet has been a good dog, then they deserve only the best! This high-quality hood instantly transforms your plaything into the barking, whining, panting canine that you crave. Their perky ears are bendable and will keep their form as they crawl at your feet. Their eyes, desperate for your affection, will stare longingly out at you from the eyeholes. An adorable red tongue pokes out from beneath the muzzle. If you want access to your puppys mouth, simply unsnap the muzzle from the rest of the hood and have at it! This hood fits big dogs and little dogs, easily lacing up at the back.

Measurements: Opening adjusts from 16 to 24 inches.

Material: Leather, metal.

Color: Black.

Note: Puppy paws sold separately.