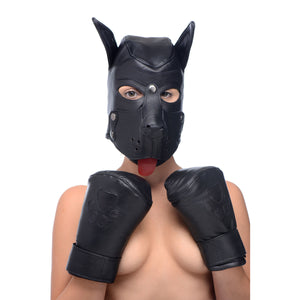 Turn your partner into your pet with this high-quality leather puppy kit. Beautifully designed and crafted, the hood and mitts will instantly transform your lover into a fetish canine, barking, whining, and begging for your affection. The muzzle of the hood snaps off for those occasions when you want to use your dog-slaves mouth. The hood fits small dogs and big dogs, adjusting easily with a lace-up back. The mitts also lace tight and secure with velcro at the wrists. Push the fists of your plaything into the comfortable padded interiors and they will be able to crawl around at your feet for hours. They're even embellished with an adorable paw print design. Heighten the atmosphere of your play scene with accessories that give life to your fantasies!

Measurements: Neck of hood adjusts from 16 to 24 inches. Mitts are 8 inches in length, 6 inches in width.

Material: Leather, velcro, metal.

Color: Black.

Note: Includes puppy hood and puppy mitts.