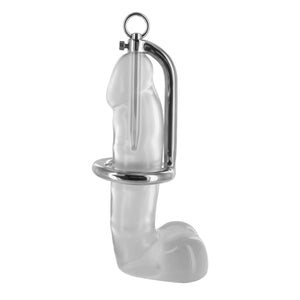 Keep your partner on lock down with this stainless steel Cock Ring and Urethral Plug! They will be trapped and unable to achieve an erection with their shaft impaled on the cool steel penis plug that you secure into place with the included hex key. With the ring snug around their balls, they are effectively imprisoned and at your mercy for their relief. The urethral pin can be adjusted in position so that you can choose the length that is inserted, and can even be removed from the device entirely to be used alone, if desired. It features a grip ring for easy retrieval.

Measurements: Ring has 1.96 inch inner diameter, Urethral Plug has 3.02 inch insertable length, 0.39 inch max insertable diameter and 3.25 inches between cock ring and tip

Material: Stainless Steel

Note: Includes hex key, Urethral Plug does not have a thru-hole

Disclaimer: These products as with all products on this site are supplied AS IS. No warranty is given either implied or expressed. Products are intended as novelty only, and no representation is made or implied as to their suitability or safety for any particular use. Purchasers use the products entirely at their own risk. The manufacturer or re-seller is not liable for any direct, indirect, incidental or consequential damage or loss howsoever arising caused by use or misuse of the products. This includes, but is not limited to, damage to the products and personal injury or damages due to use or misuse.