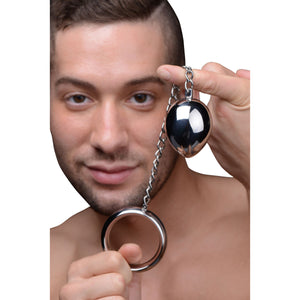 This cock ring and anal plug are double the pleasure! Experience dual stimulation as the cock ring restricts blood flow to your cock and balls, making you more sensitive, and the anal plug fills you up with intense weight! Wear this incredible device while you are playing solo or with a partner. Penetrate your lover with a harder, longer-lasting, and more sensitive erection while you experience a greater sense of fullness inside your ass from the stainless steel plug. Alternately, let that heavy-duty hunk of steel hang loose, dangling from your package like a weight as it tugs at your cock and balls. This is an excellent toy for power play or sensation play. This device cleans and sterilizes easily and can be used with any lubrication.

Measurements: 12 inches in total length, cock ring has an inner diameter of 2.05 inches, plug is 2.5 inches in length, 2.25 inches in diameter. Chain measures 7 inches in length.

Material: Stainless steel.

Color: Silver.