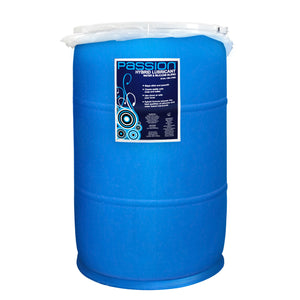 Our popular and infamous 55 gallon drum of lube now comes in an exciting and enhanced new formula! This specially blended hybrid of silicone and water based lube lets you enjoy the benefits of each, with none of the drawbacks. You get the versatility and ease of water based lube, plus the extra slickness of silicone based that is safe to use even on silicone toys. Cleans as easily as a water based lube, with the lasting silkiness and luxury of silicone. What are you going to do with all this lube?! Wrestling match? Biggest adult party ever? If you are looking for a simply jaw-dropping amount of lube, Passion Natural Water-Based Lubricant is ready to get the fun started with this 55 gallon drum! You may never run out of lube again.

Size: 55 gallons/ 208 liters

Note: Includes rotary pump.

Please be advised that this item is placed on a pallet and shipped using a freight carrier. Please contact us to place your order and obtain a custom freight quote.