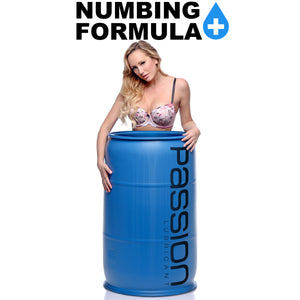 With 55 gallons of relaxing water-based lubricant, you can do more in the bedroom than you ever thought was possible! Our notorious drum of lube is now available in a desensitizing formula, with plenty to share or use to your hearts content. The non-staining, non-sticky ingredients are ideal for getting wild and messy! With such an enormous quantity of lube, you may never run out again!

This unique water-based formula contains 2 percent lidocaine, making it a desensitizing lube that can help ease some of the potential discomfort associated with anal play. This silky-smooth liquid keeps unwanted friction at bay, and offers a light numbing effect to help keep things comfortable during backdoor exploration.

Size: 55 gallons/ 208 liters.

Note: Includes pump.

Please be advised that this item is placed on a pallet and shipped using a freight carrier.