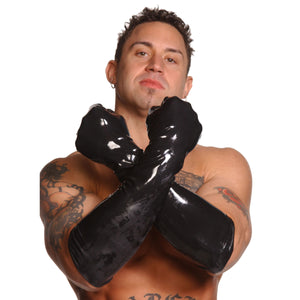 These Elbow-Length Latex Gloves are the perfect accessory for those who enjoy bondage, fetish wear, or just want to explore their partner in a new, intimate way. Whether you are poking, prodding, fisting, or teasing, these gloves look great as a fashion statement or can be lubricated for an exciting sexual experience.

Measurements: Size large. Approx. 21.5 inches from tip of middle finger to edge of sleeve opening. Allow for stretch.

Material: Latex.

Color: Black.

Note: Shorts not included.