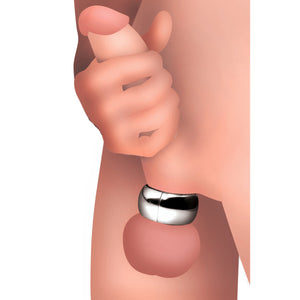 Great for CBT enthusiasts or anyone who enjoys a strong tug on their scrotum, this heavy stainless steel ball-stretcher has two halves that hold together magnetically. The durable design gives you nearly a pound of weight to pull down on your balls. The powerful magnet makes this device easy to put on and take off, just be careful to keep all your skin within the ring! Use it on your own or with a partner to test your limits. Stainless steel is compatible with all types of lubricant and sanitizes thoroughly with mild soap and warm water.

Measurements: 2.25 inches outer diameter, 1.35 inches inner diameter; 1.25 inches tall

Material: Stainless steel.

Color: Silver.