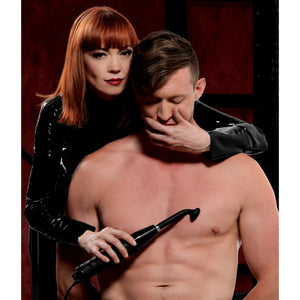 The Violet Wand with Silicone Attachments is perfect for experienced electro-Doms. If you have used the Violet Wand with glass attachments, the silicone is significantly more intense! The whip attachment, in particular, delivers multiple zaps at once. My advice is to start slow and build up to the perfect shocking pleasure. -Mistress Isabella Sinclaire

Sizzle the senses with electrosex! This Violet Wand set provides unique and intense sensations with silicone attachments that will not shatter like delicate glass. The mushroom-shaped accessory is ideal for sending pinpoint zaps of electricity into your slave or subs supple flesh. The comb features 9 teeth to transmit the current along a long strip of skin. Finally, the flogger will send a shock into them with every sensual stroke or swinging slap! The actual wand allows you to play with a wide range of power, from tingles to jolts. It features a silicone handle that enables a sturdy grip and a long cord that allows you to move freely around your playspace. Compatible with most violet wand attachments.

One of the most sought after Dominas in the world, Isabella Sinclaire has been a pillar of the fetish community and a fetish icon since 1993 and one of the first Pro Dommes with an online presence. She is a revered expert with an unparalleled knowledge on all types of BDSM activities and a deep understanding for those that participate in them. Isabella Sinclaire is also an international film star that has created or stared in over 60 BDSM films. The Isabella Sinclaire Signature Collection features exceptionally crafted tools of the trade, personally hand-picked by Isabella Sinclaire for your satisfaction. Each piece reflects her style, sophistication, skill and class.

Measurements: Mushroom is 4.5 inches in length. Comb is 8.25 inches in total length, 2 inches in width. Flogger is 14 inches in total length with 12.25 inches falls. Wand is 9 inches in length.

Material: Silicone, metal, and ABS plastic.

Color: Black.

Note: Instructions included. 110v to 240v US compatible cord.