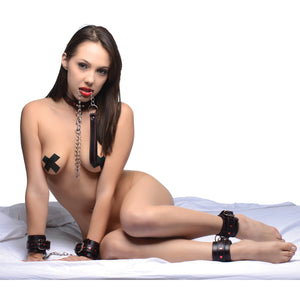 Spice up the evening with a foray into bondage! Bind your lover in this elegant set of heart accented accessories. Restrict their mobility with ankle cuffs and wrist cuffs. Turn them into your sex pet with a collar and leash! Red details make these restraints stand out as you act out your bedroom fantasies. The sturdy material is secure and durable so that your play thing cannot escape until you are done pleasuring them… and yourself! The cuffs and collar are all adjustable and swivel hooks allow you to remove the chains for a customizable experience. Take your partner for a walk or keep them trapped in bed. The possibilities are endless!

Measurements: Collar adjusts from 13 to 18.75 inches in circumference, 1 inch wide. Wrist cuffs adjust from 5 to 9 inches in circumference, 2.25 inches in width. Ankle cuffs adjust from 7 to 11.5 inches, 2.25 inches in width. Both are separated by a 5 inch chain. Leash is 31.5 inches in length.

Material: PU leather, metal.

Color: Black.