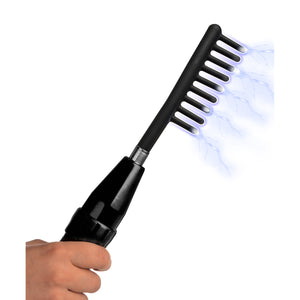 Forget about fragile glass and opt for an electrosex accessory that holds up against rough play and travel. If you have ever only used glass before in your Twilight wand, prepare to experience the sensual intensity of silicone! This soft and flexible comb plugs into your violet wand, spreading intense electro stimulation to whatever body part you choose via each of the 9 teeth. This extreme accessory offers estim intensity without the worry that handling delicate glass can bring, making it perfect for travel or rough play. The premium silicone is an intense conductor, and cleans easily after use. Compatible with the Zeus Twilight Violet Wand.

Measurements: 8.25 inches in total length, 2 inches in width.

Material: Silicone, aluminum.

Color: Black.

Note: Compatible with Zeus Twilight Violet Wand sold separately.