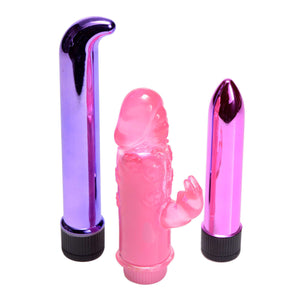 Get all your favorite and most popular vibes in one package with the Essential Lovers Kit. Women have spoken and these were their top picks: Bunny Vibe, 5 Inch Vibe, and G-Spot Vibe. Each of these vibes will stimulate you in different ways but they will all lead to the same amazing orgasm! The bunny vibe, a classic, uses dual stimulation as it vibrates not only inside of you, but also flutters its ears on your clit. The 5 Inch Vibe has a traditional vibe shape, sleek and straight, but do not let it fool you! This multi-speed vibe delivers all the power and length you need! The G-Spot Vibe is a twist on the traditional vibe. With a sleek and straight shaft, the tip is angled just right to rub on the g-spot. Its multi-speed function will stimulate your G-spot while the long shaft satisfies you like no other vibe can!

Kit Includes: One 5 Inch Vibe, One Bunny Vibe, and One G-Spot Vibe.

Materials: ABS Plastic: G-Spot Vibe and 5 Inch Vibe; TPR: Bunny Vibe.

Approx. Measurements: G-Spot Vibe: 7.25 inches in total length and 1.25 inches in width; 5 Inch Vibe: 5.5 inches in length and 1 inch wide; Bunny Vibe: 5.5 inches in length and 4.5 inches in circumference at widest point.

Note: Batteries are not included: two AA for G-Spot Vibe; one AA for 5 Inch Vibe; and two AAA for Bunny Vibe.