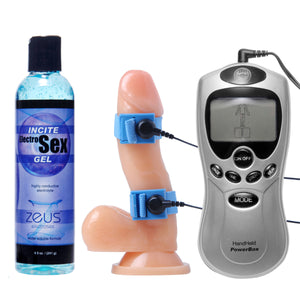 This kit has everything a man needs to enjoy targeted, intense estim sensations on his most sensitive areas! The elastic bands are designed to stretch to fit, and are specially suited to wrap around his shaft to deliver penetrating and powerful electro stimulation right to the shaft of his cock. The pads plug into the power box, which lets him control the level of intensity. The gel is designed to ensure good conduction and helps amplify each jolt to help him get the maximum amount of pleasure.

Measurements: Bands: 1.75 inch max diameter; Power box: 6 inches in length and 2.75 inches wide; Gel: 8.5 fl oz

Material: ABS, elastic

Color: Blue

Note: Dildo not included.