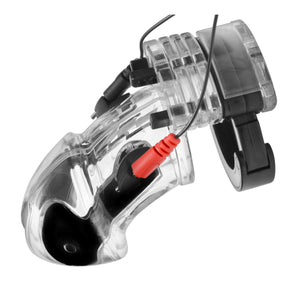 This e-stim chastity cage is full of electrifying features, making it a must-have for fans of control play and electro play alike! The cage is lined with electro conductive silicone, with pads running along the sides, flaring out into a paddle shape at the head. The cage attaches to the adjustable ABS ring, with an innovative latch system that allows you to cinch it down without having to switch out different rings. Once the ring is in place, attach the pin shelf and choose how many spacers you need for the perfect fit. The less spacers, the smaller the gap, the less chance of escape! Includes leads that hook up to any Zeus powerbox, sold separately. The lock completes the assembly, for the ultimate in stimulating, sensual restriction. The item is lightweight and can be worn for extended periods, as there is an opening at the end for urine.

Measurements: 34mm at opening, 47 mm at widest point, length measures 82 mm, can be increased with the spacers, each adding 4mm of length.

Material: ABS, silicone, PS

Color: Clear

Note: Includes cage, ring, pin shelf, 3 spacers, lock, and leads. Can be used with or without electro sensations. Compatible with any Zeus power box or one that uses pin leads shown in picture. Disclaimer: These products as with all products on this site are supplied AS IS. No warranty is given either implied or expressed. Products are intended as novelty only, and no representation is made or implied as to their suitability or safety for any particular use. Purchasers use the products entirely at their own risk. The manufacturer or re-seller is not liable for any direct, indirect, incidental or consequential damage or loss howsoever arising caused by use or misuse of the products. This includes, but is not limited to, damage to the products and personal injury or damages due to use or misuse.